Thomas Kube, DVM
A native Virginian, Dr. Kube grew up on a beef cattle farm working with Polled Herefords, creating an early interest in veterinary medicine. After obtaining a Doctorate of Veterinary Medicine at Cornell University, Dr. Kube joined Buckingham Animal Hospital in 1968. He then became a partner with Dr. Edwin Taylor, who founded the practice in 1950. The partnership continued until the early '90s when Dr. Taylor retired. A new partnership was formed with his son, Brad. Dr. Kube especially enjoys the variety of primary care within veterinary medicine, as well as making the occasional farm call to treat large animals. Dr. Kube's four legged companions include his Golden Retriever, Winni, and cat, Oliver. When away from the office, Dr. Kube enjoys local sporting events, fishing, swimming, skiing, and boating, along with spending time with his wife, daughter, son, and four grandchildren.
---
Bradford Kube, VMD
Dr. Bradford Kube joined Buckingham Animal Hospital formally in 2007, yet spent many hours here growing up assisting his father, Dr. Thomas Kube. A graduate of Pennsylvania State University with a Bachelor of Science in Biology, Dr. Kube completed his veterinary training at the University of Pennsylvania. Following veterinary school, Dr. Kube practiced in Northern Virginia before joining his father as a partner in BAH. Dr. Kube's professional interests include soft-tissue surgery and educating clients on preventative medicine. Away from the office, he enjoys getting outdoors for running, biking, skiing and spending time with his wife, two children, and Shepherd/Lab mix, Milford.
---
Adelaide Kuhn, VMD
Dr. Kuhn graduated with honors from Lehigh University with a Bachelor of Science in Biology, and then matriculated to the University of Pennsylvania School of Veterinary Medicine. She has been with Buckingham Animal Hospital since 2005. Originally from Hillsborough, New Jersey, Dr. Kuhn currently resides in Hopewell, New Jersey. Outside of work, she enjoys spending time with her family: her son, Nigel, and her rescue pup, Josephine. She is also an avid runner and birder.
---
Brittany Burger Munson, DVM
Dr. Brittany Burger Munson is a Bucks County native and earned her Bachelor's degree from Penn State University. She then graduated from the Kansas State University College of Veterinary Medicine, and has been with Buckingham Animal Hospital since 2021. In her work life, Dr. Munson especially enjoys internal medicine cases and the challenges they present. She lives on a farmette with her husband, also a veterinarian, and two children.
---
Susan Perris, DVM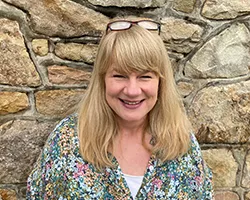 Bio coming soon!